If you have come across this blog, there is a high chance you are experiencing hair loss, trying to figure out how bad it is and what can be done to treat it. And the more you search on the internet, the more you will realise the need of a whole new vocabulary to make sense of everything — right from "DHT", "Androgenic Alopecia", "Hair Transplant", "Hair Restoration", "FUT/ FUE", "Hair plugs", "Vertex", "Direct Hair Implant/ DHI" etc. — the list is super long. 
The treatment of your hair loss starts from a proper diagnosis where different parts of your head are extremely important to understand. And if our hair loss specialist advises you to undergo a hair transplant, your surgeon will educate you on the below topics and even more as he paints out a natural, undetectable hairline using our DFI (Direct Follicle Insertion) technique.
Ready to do a quick navigation of your head?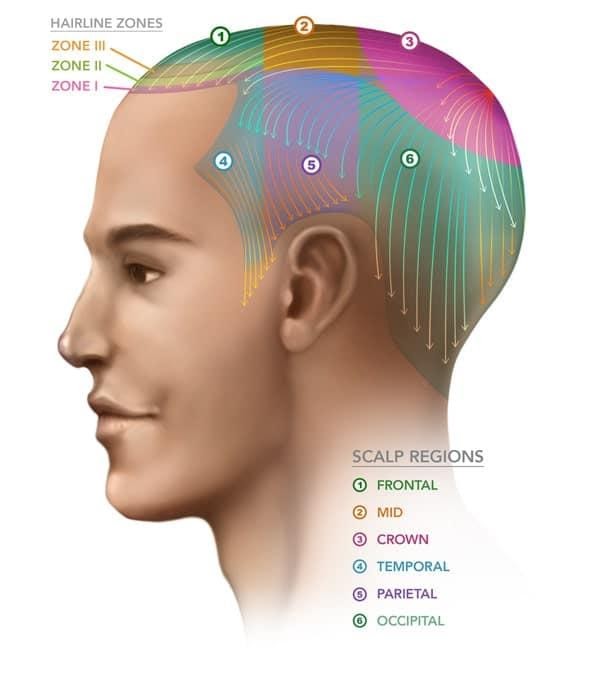 Frontal region
This area is mostly spoken about for people who suffer from a "receding hairline." The frontal region, also called the "forelock" or "central forelock," is the section of your head that frames the front of your face and includes the hairline and the hair around your temples.
If you suffer from Male Pattern Baldness, this is the foremost area of your scalp where you will notice a hair loss.
Mid-scalp region
The mid-scalp is, as the name says, the middle portion of your scalp. Unless you are at a late stage of Male Pattern Baldness or suffer from Special Cases, you are unlikely to experience much hair loss here.
So where does the frontal region end, and the mid-scalp region commence? Simply put, picture a line running across the top of your head and connecting your temples. That's essentially where the transition is.
Crown
We would like to guess you have already heard about this term, but we will go ahead and define it for you anyway just to make sure we are aligned. The crown is the peak point on your scalp, towards the back of your head. It is also called the Vertex. 
Occipital
This is the farm for your hair transplant and is found running at the back of the scalp, between your ears. It generally provides us all the required hairs to complete your transformative surgery. These hairs are virtually unaffected by DHT and last a lifetime.
No matter which parts of your head are affected by genetic hair loss, there are both Hair Loss Prevention Treatments and Permanent Hair Corrections (Hair Transplant is the only viable option here) you can use to stop it. 
The most important first step is to undertake a medical examination on your hair. For consultation with our hair loss specialist, please contact us at 1300 023 699 or book your appointment directly using the below link.